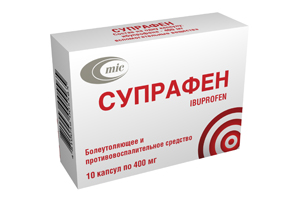 Minskintercaps U.V. launches the production of a new drug Suprafen in capsules. API of the drug Suprafen is Ibuprofen. One capsule contains Ibuprofen 400 mg.
Ibuprofen is non-steroid, anti-inflammatory drug of fever-relieve and pain-relieve action in the conditions of swelling and inflammation. In addition, Ibuprofen inhibits platelet aggregation caused by Adenosine diphosphate (ADP) and collagen.
Suprafen is indicated for symptomatic treatment of pain syndrome of weak to severe condition in adults and children after 12.
Suprafen is administered perorally with or after meal, 1 capsule up to three time daily subject to the case, and following the interval between intakes at least four hours.
The drug is administered for a short course of treatment. In case of complaints persisting for over four days, consult the physician.