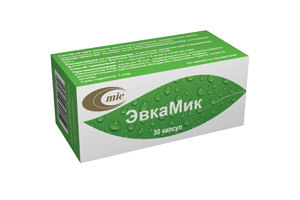 Minskintercaps U.V. launches the production of a new biological active additive EucaMic. Biological active additive contains ether oil of Black Pepper Mint 30 mg; Eucalyptus 30 mg.
The main active component of ether oil of Eucalyptus is Terpin-Cineol which maintains the barrier functions of upper respiratory mucous. One of the API of Black pepper mint oil is Methanol that enhances the maintenance of respiratory system functions.
EucaMic is indicated as a remedy to maintain the function of respiratory tract.
EucaMic is administered perorally before meal in adults 1 capsules 3 to 4 times daily. To achieve a rapid effect it is recommended to masticate the capsule.