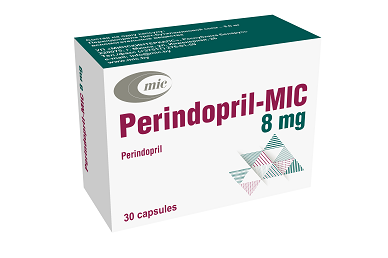 Drugs
Anti-inflammatory and antirheumatic products, Cardiology
Angiotensin converting enzyme (ATC) inhibitors.
Composition per capsule


Perindopril tretbutyl amine salt - 2.0 mg or 4.0 mg or 8.0 mg. Package 30 capsules.


Pharmacological action


Perindopril is an inhibitor of ACE (angiotensin converting enzyme), it is of hypotensive, vasodilating, cardioprotective, natriuretic action. It reduces

hypertrophy of aortic ventricle and prevents proliferation of smooth muscle cells of vessels, induces inverse development of hypertrophy of vascular wall, restores flexibility of large vessels and endothelium function, in particular the ability to release NO. It is of retard hypotensive action lasting during repeated intake. In chronic cardiac insufficiency it reduced clinical symptoms and increases tolerance of physical load.


Indications for usage


Arterial hypertension, chronic cardiac insufficiency.


Administration


Intake before meals 1 time daily in the morning.



In case of essential arterial hypertension the initial dose is 4 mg daily, if necessary increase daily dose to max 8 mg, in case of renovascular arterial hypertension 2 mg.



In caw of cardiac insufficiency 2-4 mg 1 time daily. Maintaining dose is selected individually.