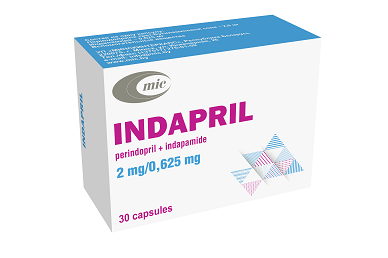 Drugs
Anti-inflammatory and antirheumatic products, Cardiology
Combination drug containing Perindopril and Indapamide. Hypotensive action.
Composition per capsule

Perindopril tretbutyl amine salt - 2 mg; Indapamide - 0.625 mg. Package 30 capsules.

Pharmacological action

Fixed lowest dose combination for treatment of arterial hypertension. Combination of the components enhances their action, it is of hypotensive, diuretic and vasodilating action. The preparation action lasts 24 h. Stable clinical effect starts less than after 1 month after treatment.
Perindopril Plus reduces the degree of hypertrophy of aortic ventricle, improves flexibility of arteries, reduces general peripheral resistance of vessels, it doesn't influence the metabolism of lipids and carbohydrates (in particular, in patients with diabetes mellitus).

Indications for usage

Administration

Intake before meals 1 time daily at the same time. Maintaining dose is selected individually.