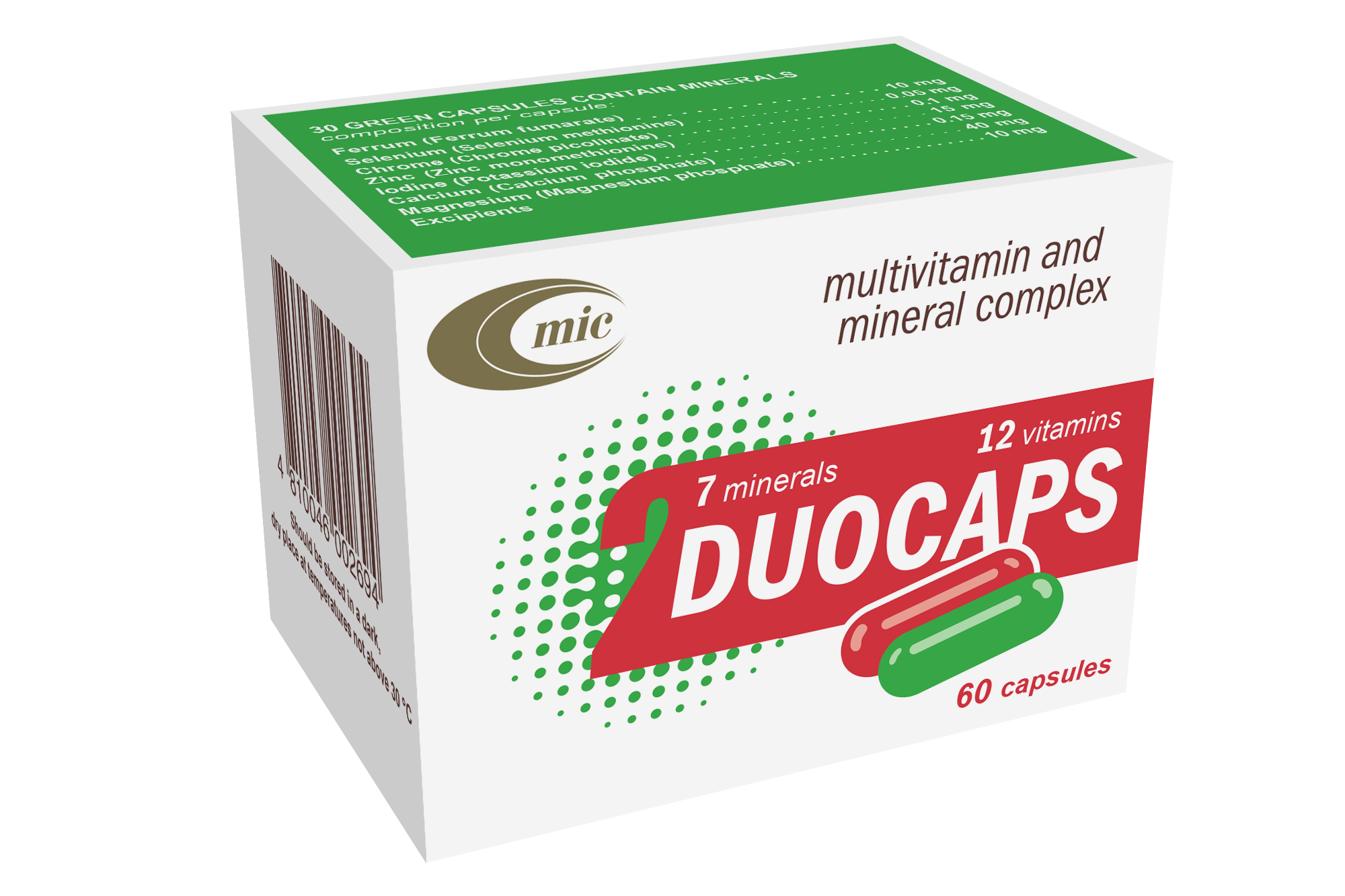 Drugs
Vitamins & Vitaminized Mineral Complexes
Polyvitamins with macro- and micro elements.
Composition per capsule

One red capsule contains:

Vitamin B1 - 1.5 mg
Vitamin B2- 1.7 mg
Nicotinamide (Vitamin PP) - 19.0 mg
Vitamin B5 - 7.7 mg
Vitamin B6 - 2.0 mg
Folic acid (Vitamin BC) - 0.2 mg
Vitamin C - 60.0 mg
Biotin (Vitamin H) - 0.05 mg
Vitamin B12 - 0.002 mg
Vitamin E - 15.0 mg
Vitamin A - IU3333
Vitamin D3 - UI200

One green capsule contains:

Fe (Fe fumarate) - 10.0 mg
Se (Se methionine) - 0.05 mg
Cr (chrome picolinate) - 0.1 mg
Zn (Zn monomethionine) - 15.0 mg
I (potassium iodide) - 0.150 mg
Calcium (calcium phosphate) - 40.0 mg
Magnesium (magnesium phosphate) - 10.0 mg

Package 30 red and 30 green capsules.

Pharmacological action

Vitamins and minerals in different capsules for separate intake, daily demand is according to WHO and FDA. Polymineral complex contains only essential trace elements like Fe, I, Zn, Cr, Se, organic trace elements and trace elements with natural biological ligands.




Indications for usage

Adults and children after 10 for prevention and treatment of hypo- and avitaminosis and insufficiency minerals caused by higher demand or reduced supply. It is recommended under higher mental and physical load, in growth period, for elderly patients, to reduce negative ecological effect.

Administration

Intake 1 red and 1 green capsule daily after meals.